In Search Of Best Date Markets in Abu Dhabi
Dates purchasing is one of the top priority for tourists visiting Abu Dhabi. Our guests often ask us the best places here to buy Dates for them. It is, in fact, one of the most preferred gifts for people back home. When you are on a visit to the UAE, this exotic dry fruit is something that everyone looks forward.
In fact, winters are the best months to buy Dates in Abu Dhabi. Most importantly, this is the time when you get much variety of Dates available in various date markets. More tourists rush in Mina Date Market and Central Market in search of Dates during winters.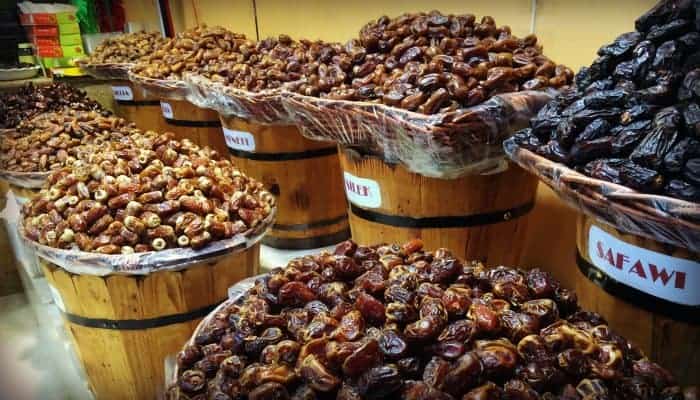 Best Gifts for People Back Home
Your family back home relishes the flavor of the Middle East as you buy the most delicious date for them. As you can see, December to March are the busiest time for date traders in Abu Dhabi. Date market roaming is one of the necessary activities mentioned in the itineraries of the visitors we cater to.
We host some visitors every year. Each group comes up with their fondness towards Dates. Our travel team incorporates this itinerary for all of them. To sum up, we have not ever experienced occasions where our visitors have finished their trips without buying Dates or visiting the Dates market.
Tour to Date Markets
If the Dates market is not yet a part of your travel plan in Abu Dhabi, it is high time that you add it. In other words, the date markets here are must-to-visit spots. The variety of Dates sold here would blow your mind.
Exotic and flavored Dates offer to the tourists at best rates. In this case, our team members are there to guide you to purchase delicious Dates at the best prices. You can gladly buy them without any doubts.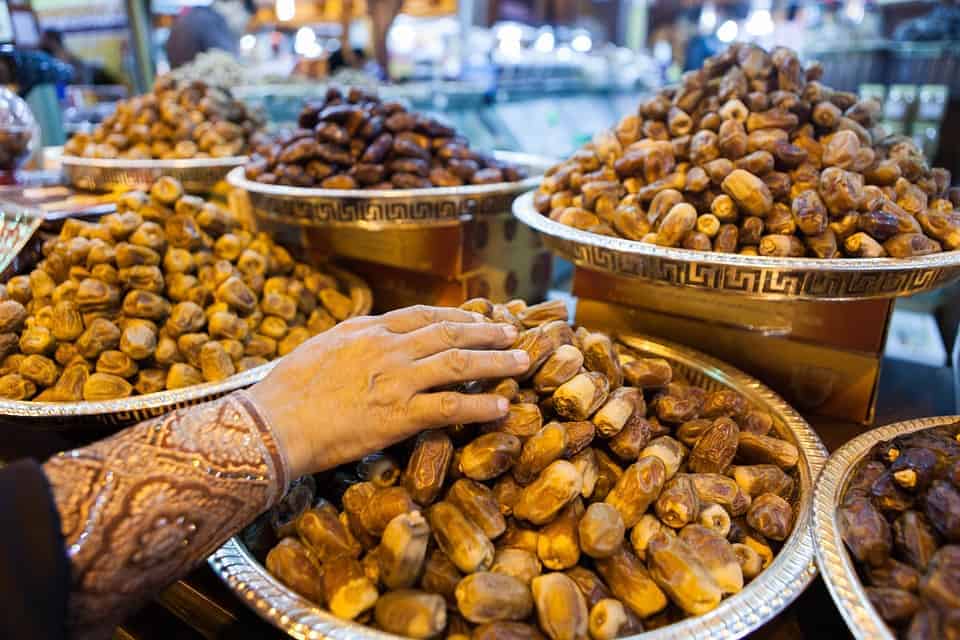 The old Abu Dhabi exists in the lanes that sell fruits, vegetables, fish, and Dates. Walking through these paths gives you the authentic flavor of the Arabian life. It is an experience. You see the traditional Arabic shopkeepers dealing with the customers in their unique way. Furthermore, Arabians treat their guests very affectionately. Being a tourist, you will enjoy the best of hosting offered all over the world. The tourists mainly focus on dried fruits found in the Middle East, along with various qualities of Dates.
There are countless date shops in these lanes that offer you samples of their stock. Besides, you can taste the samples and finalize which ones to buy. The shopkeepers are cordial as they display their inventory on trays outside their shops.
Local Delicacies
The Al Reef Dates is operating in the market for the year 1999. They are best known for their fresh Dates. The shop has wooden barrels that sore the Dates to remain garden-fresh.
The local Dates like Lulu and Khlas are in high demand amongst the tourists without a doubt. The primary reason behind such market is the low cost and authentic taste. The Majhool Dates are soft and are in high need amongst tourists as well. Primarily, the Al Mina Vegetable Market in Abu Dhabi has a lot of these date shops.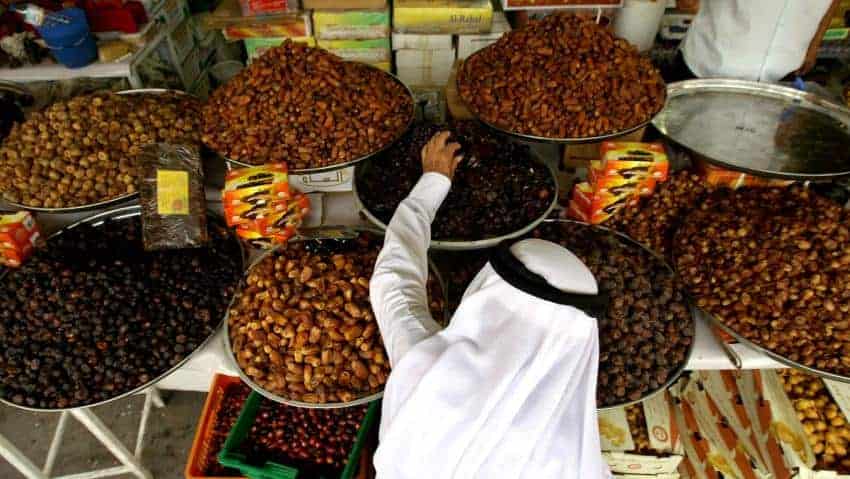 Reasons to Visit Date Markets in Abu Dhabi
Dates constitute a significant part of the Middle East culture. It is a part of the staple meal here in this part of the world. There are various date species available at the date markets during different seasons. Nevertheless, we certainly will guide you on which date to buy for which period. Abu Dhabi date markets import Dates from Saudi Arabia and Oman as well. You can buy them at the best prices.
You can get the best fresh Dates, Dates syrup, and dry fruits for your friends and family. You can purchase the Dates chocolates for your children. They would undoubtedly relish it. The Majdool, Khudri, Ajwa, Mabrum, Sugai, Shalabi, Khalas, Sheshi, Sukari, Safawi, And Kaneezi Dates are local with great taste.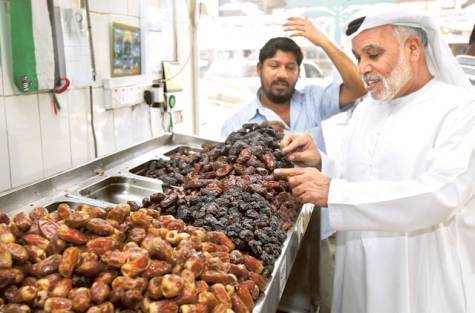 The Date Market in Saadiyat Island also attracts many tourists. An open-air market sells many other Arabian fruits like melons and potatoes in addition to dates. The exotic foods import from Jordan. The vegetables from Turkey are also an organic thing to collect from the date markets. The yellow colored Sucri Dates win your heart with its smell. If you are a fan of significant Dates, Medjool Dates are for you. They imported mainly from Saudi Arabia. These sweet Dates can be used at home to make considerable date syrups. You can use them in your regular desserts. Not to mention, back home, you can enjoy the Arabian delicacies prepared with the local organic Dates.
Exotic Dates to Experience a Heavenly Flavour
All tourists love the Barhi and Fard Dates of the Middle East. The Dates vary in size and color. You can get a variety of sweet Dates. The chocolate coated and nut stuffed Dates are big heart winners. You can purchase Khallas Dates for gifting purposes. The Medjool Dates are also significant in size. These are also good gift options. You can collect them as souvenirs for your dear ones. Apart from dates, Walnuts, cashew nuts, and figs are other collectibles from the Dates market. You can try the roasted pistachios that are one of the best things to eat at Abu Dhabi. While you are with our travel guides, they will help you in purchasing the right item at the right price. Moreover, they will guide you to the fair shops that sell excellent quality sweet Dates.
You can find a lot of Lebanese sweets at the Abu Dhabi date market. These desserts mostly made with Dates and honey. They also mix ground nut and chocolates to make them tastier. You can get them without import duty. The chocolate Dates prepared from the wholesome camel milk. The date confectioneries made from cocoa beans and vanilla flavors. You can get all of these at the Emirates General Market. Our travel guides will take you through the market, along with Lulu. In all honesty, we are sure that these Edible souvenirs will win your people's heart back home.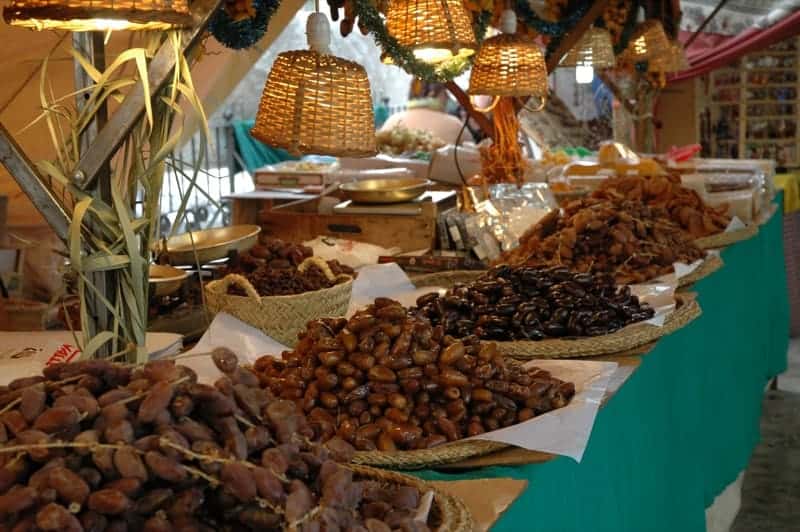 Arabian Rich Heritage of Dates
Dates are an essential part of the Arabian heritage. Alternatively, the variety of Dates offered here is a rich source of nutrition. They have diversified colors and come in various flavors. You can get them in orange, mango, butterscotch or almond flavor. You can buy delicious date syrups, jams, and other products made out of it. The canned and jarred Dates are in significant demand amongst the tourists. Those are easy to carry in flights. The date sellers offer you date in sealed packs when they know that you are going to travel on air with them. The hospitality of the shopkeepers is fantastic. Even if you do not buy them, you can taste samples of it offered by the shopkeepers.
The Central Market of Abu Dhabi has some of the best date shops other than vegetables and meat. The variety of Dates that these sweetmeat sellers cater is beyond comparison. Also, you can avail yourself different qualities of Dates to varying prices certainly. There are Dates even for diabetic patients. They can gladly enjoy the flavor of Arabian Dates without any fear. The sugar content of Dates is 70%. Let alone; the natural sweetness is not at all harmful to health. The autumn harvested Dates are best for diabetic people. You can search them at the date markets if you like to buy them.

Warmth and Friendliness of the Shopkeepers
There are many Keralite shopkeepers at various date markets of Abu Dhabi. You can avail great discounts from them on big purchases. You will no doubt like the environment, warmth, and neighborliness of these shopkeepers.
If you visit Abu Dhabi during Ramadan, you can see date markets getting flooded with fresh Dates. They are gifted to one another during the festival. People break their fasts with this exotic fruit during Ramadan.
Dates, a rich source of fiber, iron, and magnesium. You get a lot of calcium and potassium from this glorious fruit. It has many health benefits. It boosts your energy instantly. You can have them with you during your travel and eat them to recharge yourself at any moment.
The Famous Bateel Dates
This luxury food of Arab is the pride of Middle East. The Bateel Dates are known for its polished look and shining texture. It looks similar to excellent, refined stone works. The traycase arranges the Bateel Dates as pyramids. This gorgeous gift is even more exciting than many valuables.
They come in decorative wooden boxes with varnish finishing. Agwa Dates are another Arabian delicacy. Occasionally these are grown in the Middle East. You can get these if you are tripping in the months between Septembers to November.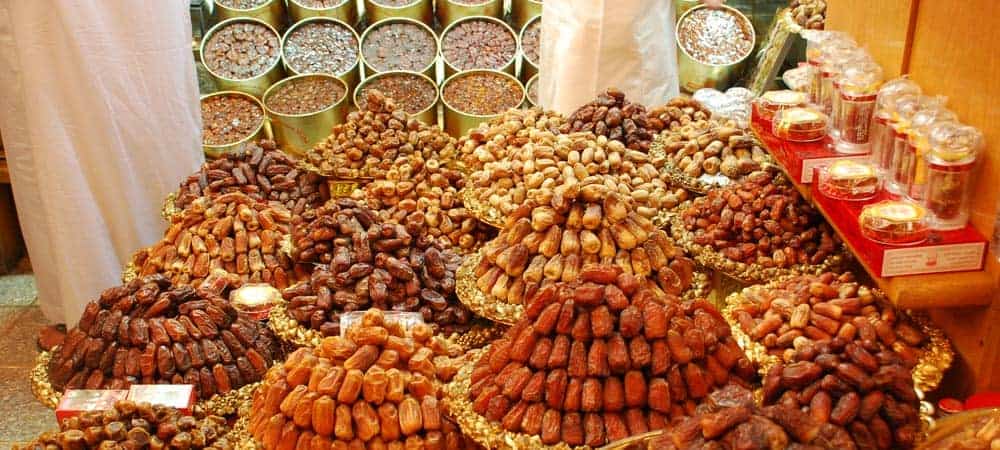 Epilogue
The journey to the date markets in Abu Dhabi is an experience in itself. We have come across many visitors who enjoy the experience more than just tasting the Dates. It is a culture to witness. It is an expedition to walk through the lanes of date market. Tourists spend a lot of their time in knowing this Arabic culture. They click pictures and record their moments spend on these beautiful paths.