The Most Memorable Desert Safari in Dubai
Whenever somebody makes a list of the most exotic places in the world to visit, Dubai has a place among the priority destinations on that list. Because of its geographic structure, it is surrounded by the sea all around. Visitors come here to experience the rich culture and trends of Arabic people. 
The most interesting factor of tours to Dubai is its unique architecture. You will find mind-blowing hotel and shopping mall buildings in the city. You may find a large number of places to visit in Dubai.
You can do fun shopping at the biggest hypermarkets in the world in Dubai. The systematic approach and processes make it easy for you to find out everything that you are looking for.
But to visit and cover all the visitors' places, you need to follow a certain itinerary of major places to visit in Dubai, UAE. 

Desert Safari of Dubai is famous for its never-ending fun and rough rides. Choosing to spend some fun days in Dubai while experiencing the rough sandy roads and crazy 4X4 rides in the deserts would give you the craziest memorable moments of your life. Give a well-deserving complementing BBQ dinner treat to yourself as the sun sets with mind-blowing belly dancing. One thing is sure, you would love to revisit Dubai to relive the rides of Dubai Desert Safari.
But people mostly get confused when they have to decide on the tour schedule and itinerary. Being a first-time visitor, it will always be difficult for you to decide which places you should visit in the available time. Therefore, hiring a professional tour service provider in Dubai would give you ease. 
"Travel Plan Dubai" is the most trusted, demanded, and convenient Dubai tour service provider in the city. Having years of experience in offering the most productive tour packages to its clients, the company has earned the trust and respect of thousands of clients worldwide. You just need to enjoy your tour with friends and family and release yourself from the burden of local planning and schedules. Our team of professionally trained and technically advanced individuals knows how to set your visit plans in the limited days' of visit. 
Getting your Dubai desert safari tour itinerary prepared by a travel agency will save your valuable time and hard-earned money. Get your tour package customized based on your choices, preferences, budget, and available days. The things that will be left in this tour, you can always try out on the next visit.
It is going to be the best desert tour in Dubai for you as the city has more to offer within the tour of Dubai desert tour.    
Guidelines For Dubai Desert Safari With Dinner Tours
If you are planning to experience the Dubai desert safari, then this small piece of a tour guide will help you to understand better; what you should try out in Dubai and what you must avoid. You are free to get your desert safari tour to Dubai customized by the travel agency. But if you want to explore a bit in Dubai, then at least 3Nights/4 days are required to explore a variety of things and places in Dubai. Although, if you want to plan for a comfortable desert safari tour to Dubai, then you should be free for a week. 6Nights/7 days would be more convenient to cover and visit all the desired visitors' places without getting much tired at the end of the day.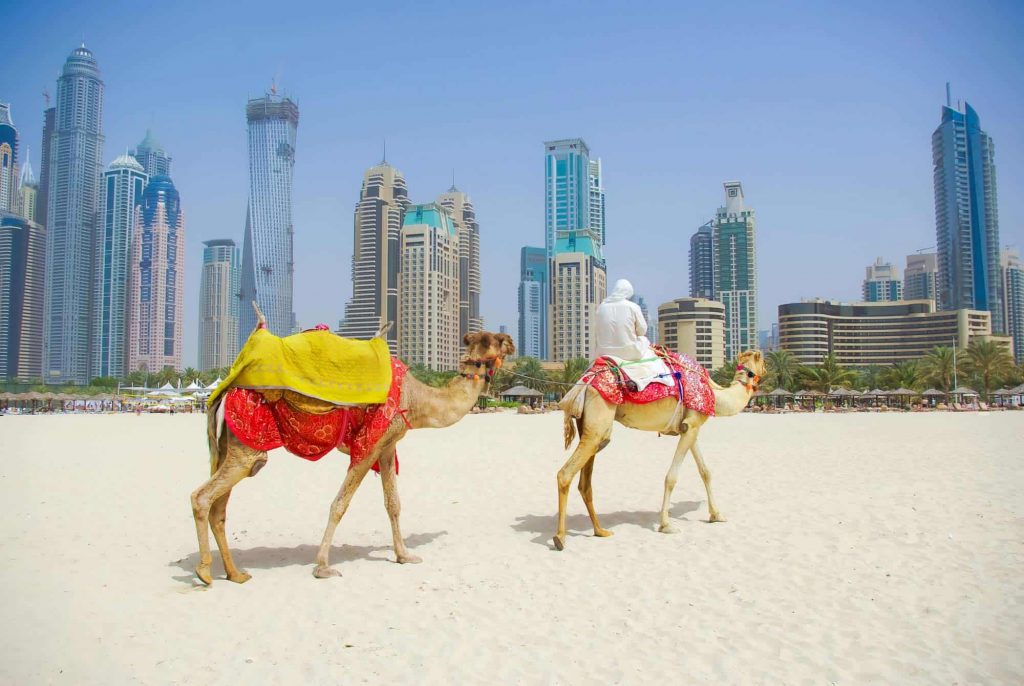 You might find different pre-customized tour packages for the Dubai desert safari with us. So, if you are getting confused to take the final decision, you can simply opt for one of the available tour packages. You will find detailed information about the sightseeing, routings, stay & food, and package charges.
Because of the extreme weather conditions in the deserts, it is recommended that you should take care of certain things;
Always wear lightweight, bright colors and breathable outfits to cope with the circumstances.
You must wear a hat or cover your head to avoid sun strokes and heat battles.
Carry some additional lightweight wearables to avoid any circumstances. 
Always keep your body hydrated as in deserts, your body can easily get dehydrated due to extreme heat, humidity, and dry wind flow.
You should carry a towel, multiple handkerchiefs, or face wipes to wipe out the sweat.
Well carrying a high-definition camera will help aid in capturing beautiful landscapes, photographs, and souvenirs.  
You should wear breathable, durable, and fully covered shoes to avoid bad encounters with desert snakes, scorpions, and deadly creatures.
Make sure you start the day a little early to go for a day desert safari ride as, during the mid-day, it is quite hot outside.
Wear all the guards and helmets while riding a quad bike.
Do not forget to try out the fun camel ride followed by the lavish BBQ dinner with an outside bonfire while enjoying the famous Arabic belly dance performance.
Hire a local guide to roam inside the city and know about the culture in detail. You might miss some of the exotic places in Dubai, but a local guide might help you to cover all the visitor places nearby the city.
Avoid Planning For Dubai Desert Tour In Ramadan
It is considered important to know that you should not avoid planning to visit Dubai for a desert safari tour or for entertainment purposes. Though, you can visit Dubai for a personal trip or a business tour. As per the Arabic culture, Ramadan is considered to be the most religious month of the year. The month of Ramadan may vary based on certain facts for it to fall in a particular month.

On the days of Ramadan, people in Dubai do not allow and follow anything related to entertainment. So, they avoid consuming alcohol, they don't manage or arrange a night out parties, you will have limited fun elements in the desert safari tour packages, and eating food in front of the people fasting in the month is a punishable offense. Therefore, during this particular period, only fewer visitors can be seen in Dubai. People don't make any fun trips to Dubai in the month of Ramadan.
The best time to visit and experience the desert safari in Dubai is between November to March months. Winters are the best days to enjoy comfortably in Dubai and make some unforgettable memories of Arabic culture.     
Dinner Planning
If you have opted for the Dubai desert safari tour, then you would never want to miss the dinner. The Dubai deserts BBQ dinner is famous for its unique flavor and menu. After trying out the camel ride, rough biking on the sandy roads, and other desert sports activities, in the late evening taking a rest while enjoying the open bonfire would be quite entertaining as you can witness the world-famous belly dancing. Get the rich, and lavish BBQ dinner served with the smoky taste that will take your heart away. You can also try out some of the oldest wines preserved for a long in Dubai. You would cherish those moments for the rest of your life. If it is your first time, then nothing can beat this combination.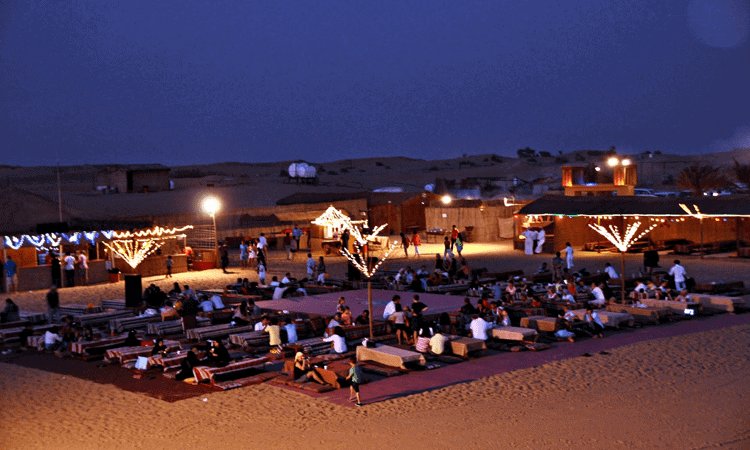 You are served with yummy starters followed by the delicious buffet meal and desserts thereafter. Enjoy every bite of your meal while relaxing comfortably. Ending the fun day with quality food is an unmatched experience.
You can try out some delicious and smoky BBQ dinner menus in different dedicated restaurants. You will enjoy the open BBQ system at such places with some amazing Arabic music. The unique themes and interiors of these restaurants are quite observant. So, you have the choices either you can have BBQ dinner at these ambiance-centric restaurants, or you can enjoy your evening food at the camping place with an open bonfire.    
Let's discuss this mind-blowing desert tour program in detail;      
Beginning Of The Trip
The beginning of your Dubai Private tour would depend upon the tour package you have chosen. Although, the Dubai safari tour would start in the afternoon. So, you will be picked up from your hotel, and we will head towards the first destination. Don't worry about the safety and comfort, though it will be a rough and crazy ride you will ride in the powerful SUV with 4X4 drive control in a hummer desert safari tour in dubai. It is advised that you should have food before starting your desert safari tour and carry water along. Don't forget to collect and carry the necessary items we discussed earlier.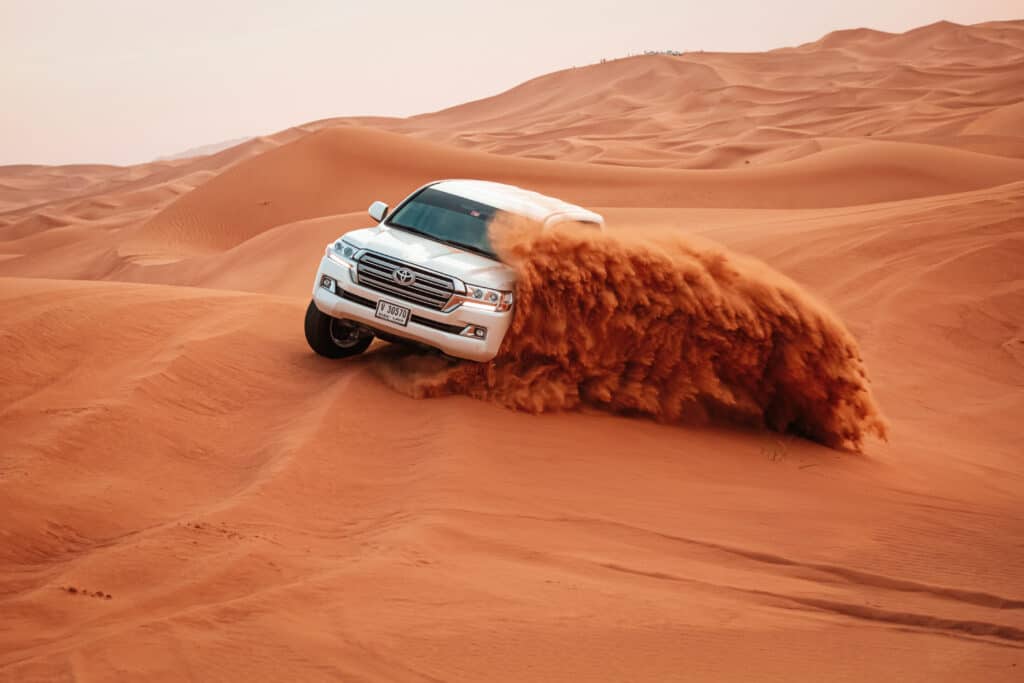 You can leave your hotel early in the morning to see the sunrise of the city, but then you need to come back to your room early in the afternoon. Stay a little more excited because this desert safari is going to be an unforgettable ride on the rough roads. Let's discuss the safari tour in detail;  
Dune Bashing
Dune Bashing is the most exciting part of this whole trip. It is a rough fun ride on four wheels that are powerful enough to keep you safe on the rough and sandy roads of Dubai deserts, and still, you will be able to capture the mind-blowing moments for the rest of your life. The ride will be for approximately half an hour on the rough and sandy roads. Enjoy the unusually driving ride as the most experienced driver controls the wheels.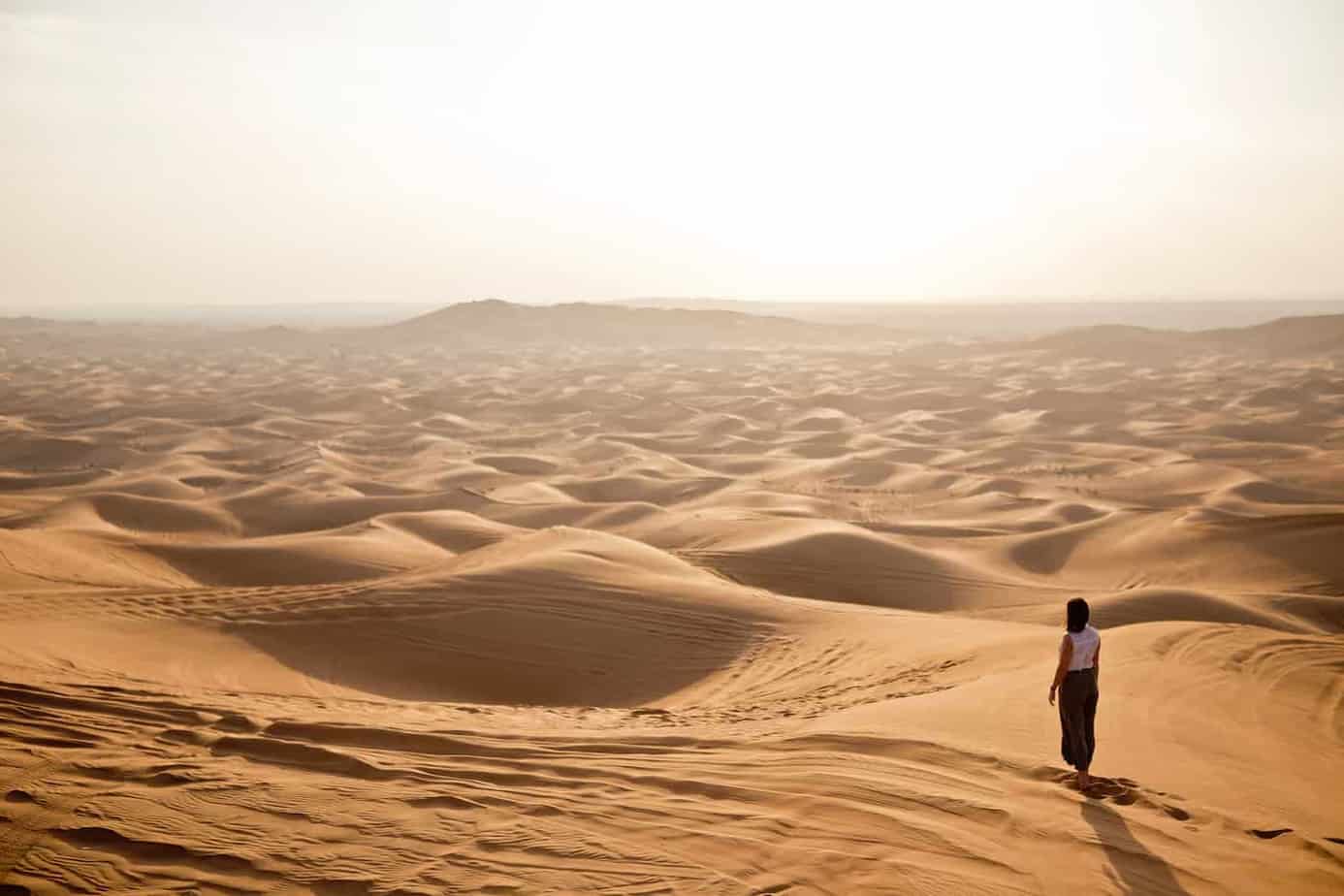 Dune bashing is always included in the desert safari tour package. Believe us, you don't want to miss this fun ride. It is a real dare that you can do in life and still beat the fear. A spacious and powerful SUV will pick you up, and it will start running at the top speed on the rough roads of the desert. You can feel floating sand in the air, and the feeling of a roller-coaster ride would add more fun to your riding experience. It is safe and secure to have this fun ride. Although you will be advised about all the Dos & Don'ts still you should take care of certain things while going on this crazy ride.
–          Make sure you book your desert safari tour from professional tour providers.
–          You can do evening bookings for best desert safari tour
–          Do not eat a full diet before the desert ride as it can cause your health issues.
–          You should wear lightweight clothes on the desert safari ride.
–          Don't take your children below the age of 4 on this safari ride.
–          Avoid wearing covered footwear, you can wear slippers or open toes footwear.
–          Before starting the dune bashing ride, fasten the seat belt for safety.
–          If, you have any major health issues especially related to spin, don't try the ride.
–          Even if you have breathing issues or respiratory problems then you should consult your doctor before trying dune bashing in Dubai.    
Memorable Camel Ride
The camel ride on the desert safari camel tour Dubai is quite famous because of its fun element. Imagine that you are riding a camel in the rough and sandy deserts of Dubai. Crossing those dunes made of sand would be a different experience on the trip. It feels like a roller-coaster ride on the open rough ground and roads. Though, it is safe and enjoyable. Camels are capable to balance the dips and jerks during the ride. So, even if the road is uneven and it is filled with tons of dry sand, you will have a smooth and memorable ride.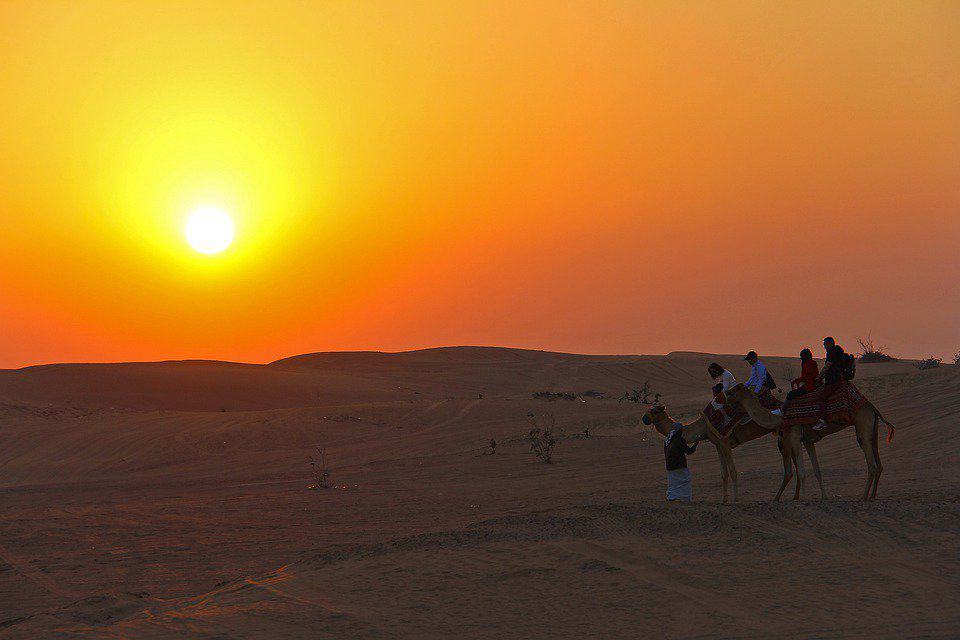 A camel ride is included in the tour package desert safari. It is amazingly convenient too. You would never want to miss this ride if you are in Dubai already. The camels are well-trained to move and behave as per the comfort of a rider. You will always have the company of the owner or trainer of the camel to control its moves better. We always prioritize the safety of our clients.
It is suggested that if you have any spine injuries or any physical condition that can trigger for worse by doing the camel ride. Please don't try this for your better health. Stay mentally and physically sound during the desert safari tour to enjoy every second of it.
Stirring Sand Skiing
Are you a sports lover and you know how to do skiing? Then, this Dubai tour is going to add more fun to your bucket list. Just like skiing on the ice, you can enjoy stirring sand skiing in the sandy deserts of Dubai. Sounds interesting! So, you can try out the most daring and fun-filling sand skiing in the dunes of Dubai deserts. This thrilling sports activity will raise the bar of your fun time and expectations for the surprises of the desert safari in Dubai City.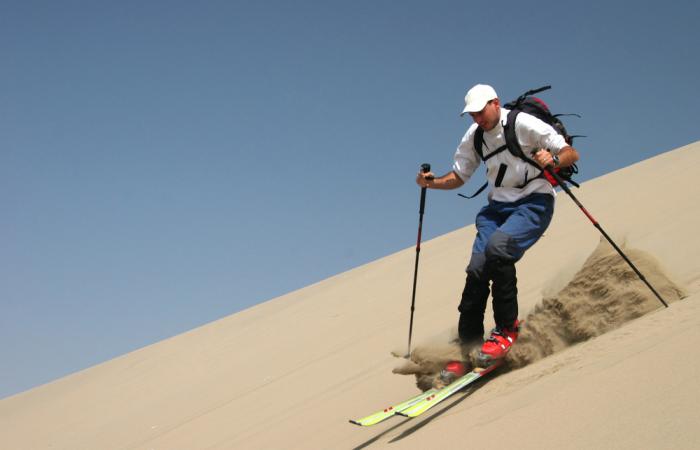 People from various countries and sub-countries visit Dubai every year to try out and experience this sand skiing. You can frame some crazy photographs while doing sand skiing. If this is your first visit to Dubai, then after trying this, you will always cherish these fun moments in life.
Adding this fun activity to the tour package would leave a great souvenir for you. You can ask our professionals about the best desert safari tour packages.   
Dubai Desert Dune Buggy Experience
If you think that having a camel ride in the desert is the craziest dare tried in Dubai, then this is not enough yet. Book your ride to experience the desert dune buggy self-drive in Dubai, It is one of the most daring things you can try out in Dubai. Try your hands on our customized and damn crazy desert dune buggy. You do the booking for a self-ride to enjoy a unique rough ride, or you can hire a personalized technician who will take you on a long refreshing ride.
Our dune buggies are safe and powerful. For your utmost safety, you are provided with a safety helmet and guards to protect you against any accidental damage. During this fun activity, you are served chilled beverages and water to keep you hydrated. It is again advised that don't have a full diet or oily food before going for the dune buggy ride in the deserts.
The buddy will take a little flight while it will cross any major bump or a dune with natural speed breakers. This adds more excitement and thrill to your ride. You can ask your friends or family members to take your photographs while you drive these fun dune buggies.
In case of any emergency or you need any technical assistance, one of our technicians will always stay connected with you during the ride. Although, for a long ride, a professionally trained driver will be with you. You should dare yourself to try this crazy and fun desert sport. Book your ride today!  
The Memorable Camping Experience
Have you ever imagined or planned for outside camping with friends or family? If you haven't tried it yet, then the Dubai desert tour has the biggest surprise for you. You can opt for Dubai desert camping, and it will be the most amazing memory of your Dubai tour. It feels amazing when you stay for a night in camps in wide-open places. You can enjoy the night sky full of stars and beautiful dark landscapes. It gives a mind-blowing feel when you have a like-minded company at such places to live those moments.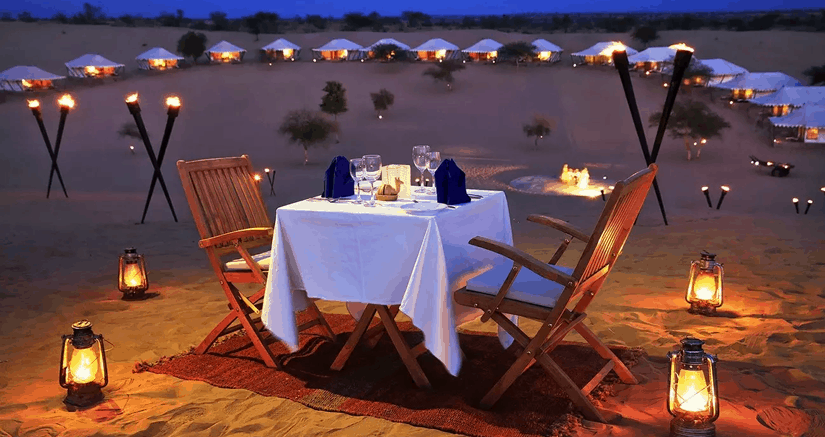 We have the finest arrangements for your unforgettable camping experience here in the city itself. In the outer skirts of the city on the banks of the most famous beaches and lakes of the city. Nothing can beat this location and its natural combination to have perfect comping.
Places In Dubai Where You Can Experience The Best Camping
We are listing some of the most exotic places here for camping in Dubai to give you an idea that where you can have your best memories of camping with your friends and family. Al Qudra Lakes is one of the most famous and hot destinations for camping on the outskirts of Dubai. It has 30 minutes of distance from the mall of Emirates. Because of its geographical location, on one side it has a large desert area, and on the other side, it has fertile land with the availability of water. Here you can see some wild camels in the morning if you get lucky. And camping at this place is like living in the heavens. Bring your friends and family here and enjoy the closeness with nature.
The other famous destinations in the list are;
Bedouin Camp,
Khasab and Al Sayah Plateau in Musandam
White Sands Beach
Fossil Rock, Sharjah
Jebel Al Jais
Hajar Mountains
Fujairah
Umm Al Quwain Beach
Al Dhafra Beach  
Things You Should Carry Along For The Desert Camping
Since you are camping in the desert, you should carry some important things with you for a comfortable stay;
You should carry warm blankets for the night's stay as there can be a little cold outside.
Carry one foldable tent with you to accommodate yourself comfortably. 
Carry enough water with you so that your body doesn't get dehydrated.
It is suggested that you should pack the tracking suit and tracking boots along with some additional clothes to change.
You should carry a safety guard kit and a tracking helmet with you.
Keep necessary medicines and a first-aid kit for any medical situation.
Carry enough food and eatables with you so that, you are not out of food while you and your companions are hungry.
Take the early permission for the camping at the place you have chosen.
Carry some needful things like; portable phone chargers, torches, earphones, and extra batteries.     
The Beautiful Desert Sunset
If you have opted for an evening desert safari tour of Dubai, then a beautiful desert sunset can add a mesmerizing memory to the list of captured moments in Dubai. You can start the desert tour by riding on a 4X4 powerful and customized SUV. It will make your journey more comfortable and fun-filling. In the evening you can try out some fun activities on the dunes of deserts in Dubai like; Quad Bike Rides, Desert Skiing, Camel Rides, Desert Camping, Delicious BBQ Dinner, Famous, and Arabic Dance while you experience the heart-stealing desert sunset. You can capture and frame some of the most beautiful and admiring evening landscapes as souvenirs of Dubai deserts.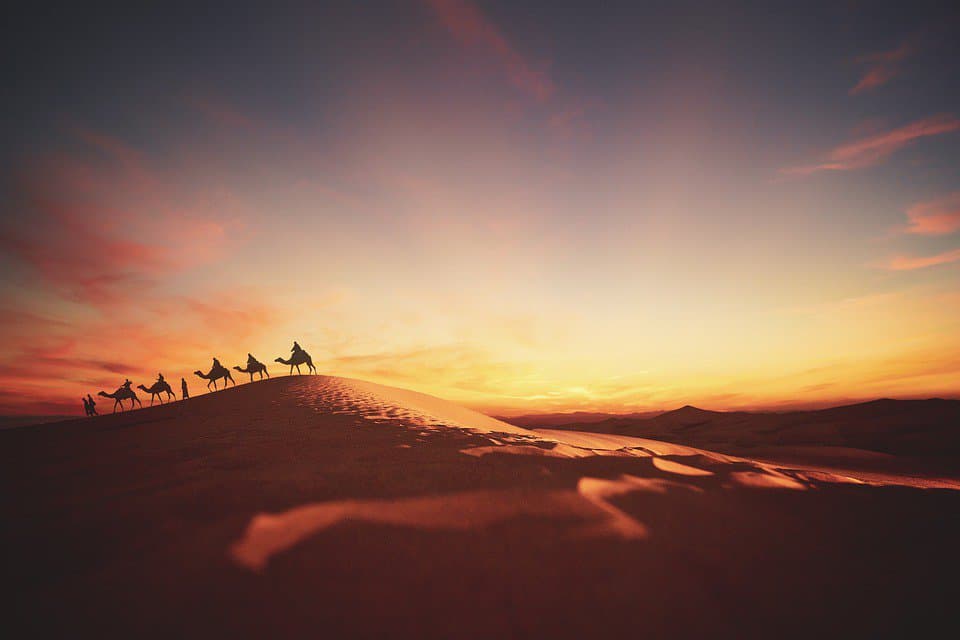 You would never want to miss to catch the beautiful scenery of the evening desert sunset. Ask us for the best locations to experience the perfect sunset moments. Our team members will ride you to the place from where you can cherish every single moment of the melting sunlight.
If you want to impress your lover, partner, or spouse, accompany them to witness the beauty of nature. It would be a different kind of fun as you will be a part of a family group, professional group, friends group, or a peer group to enjoy the evening desert safari tour with a sunset view. So, if it sounds perfect, then book your evening desert safari tour now.                              
Epilogue
A visit to Dubai would always be memorable for you because they have a unique culture and amazing architecture. You would love to spend some quality days at the exotic Palm Beach. You can also enjoy peace near the shores of beautiful beaches in Dubai. If you are visiting Dubai in the summers, then you can relax in the water parks, fun parks, and amusement parks with your family and friends.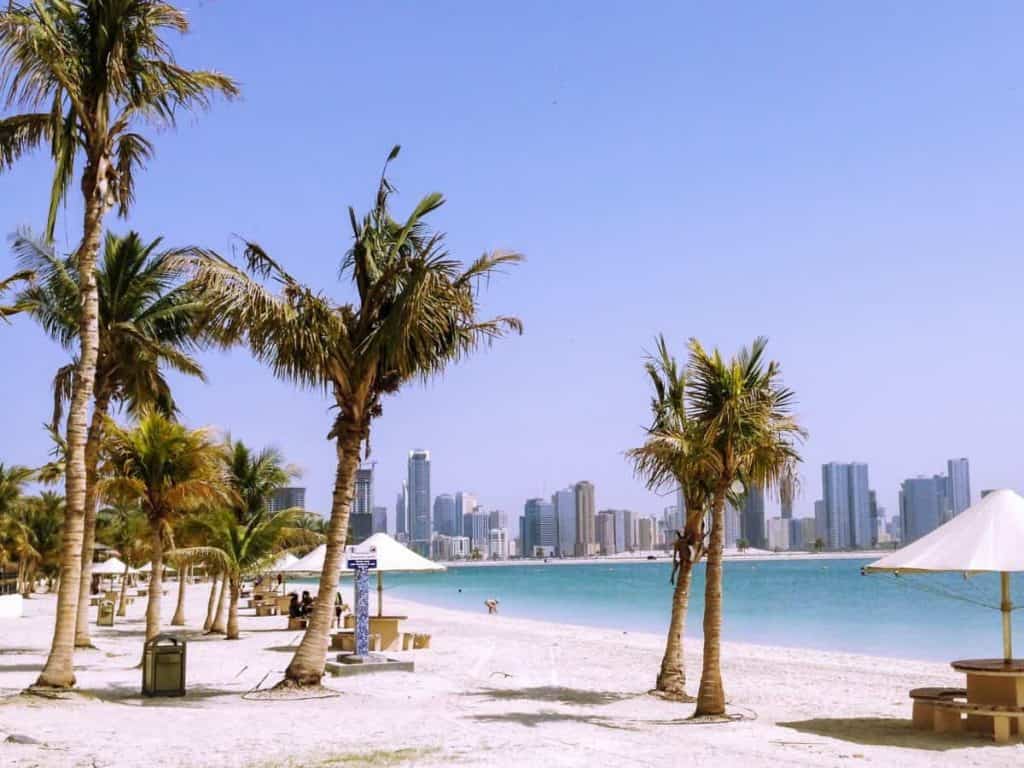 As we have already discussed above that we have decades of experience in making and planning the most thrilling and fun-filling Dubai tour packages. You can contact us any time in the day to book your private desert safari tour. Ask Us to customize your tour package according to your preferences and priorities. Our tour package charges are highly competitive in the market, and the packages are quite affordable if you want to cover maximum visitor places and sightseeing.
But always remember that if you have any major medical conditions, then you should avoid going for the fun desert safari tour. Don't try such exciting tours in the medical conditions with;
Arthritis Problem
Asthmatic Conditions
Cardiac Condition
Suffering With Major Illness Like; Covid-19
You are requested and advised that kindly pre-schedule your visit to Dubai and pre-book your tickets for a desert safari tour to avoid any hassles or inconvenience. We have a team of dedicated and well-trained professionals that are available to answer all your queries related to Dubai tour packages and desert safari packages. Make the selection of tour packages based on your budget, available dates, and preferences. The package can be customized with maximum offerings in your budget, but once the dates are finalized nothing will be changed. 
So, what are you waiting for now? Explore all the Dubai tour packages offered by our Dubai Travel Agency, and book your tickets now. Explore the whole new world with us in your comfort and utmost safety. CALL NOW FOR BOOKINGS!