Overnight Desert Safari, Dubai
Overnight desert safari is a great plan to add some excitement and fun to your life. When planning for your Dubai desert safari tour, you can dedicate a day to experience the overnight desert safari ride. It would be a whole new experience to ride the powerful and converted XUV on the rough and sandy roads of the deserts.
It will be great fun as you are not returning to your hotel at night, but you will stay out in the desert.
The overnight desert safari plan starts in the evening and gets over the next morning. It will be an unforgettable tour of your life.   
Overnight Stay In Desert Camp
Your full-night stay in the desert camp in Dubai will bring many surprises for you. This one-night outing will add a thrilling experience to your Dubai desert safari trip.
You can experience various Arabic and other dance performances. Proper arrangements will be done by the service providers. You will sleep in camp under the lap of the natural environment in the open.
Enjoy the rich and delicious taste of BBQ dinner and costly wine (extra charges). Unlike other continental foods, Dubai has unique tastes and dishes to offer.
You can enjoy the world-famous fire show on this overnight Dubai desert safari trip. This show is a combination of various acts and mind-blowing stunts. These artists are professionally trained and they do years of practice to make the show entertaining and memorable for you.   
Outdoor Camping
People who love the thrill and want to have a lifetime experience to stay in an outdoor camp in the deserts should try this activity for sure. You can sense that you are surrounded by nature all over in the middle of the night. You can feel the cool breeze floating through.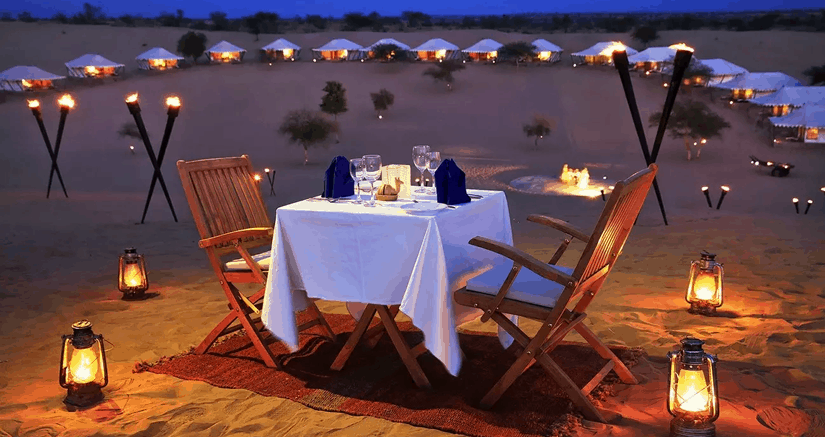 It will be a comfortable stay in the outdoor camps. You can enjoy the company of your partner, family, friends, and others.
Bonfire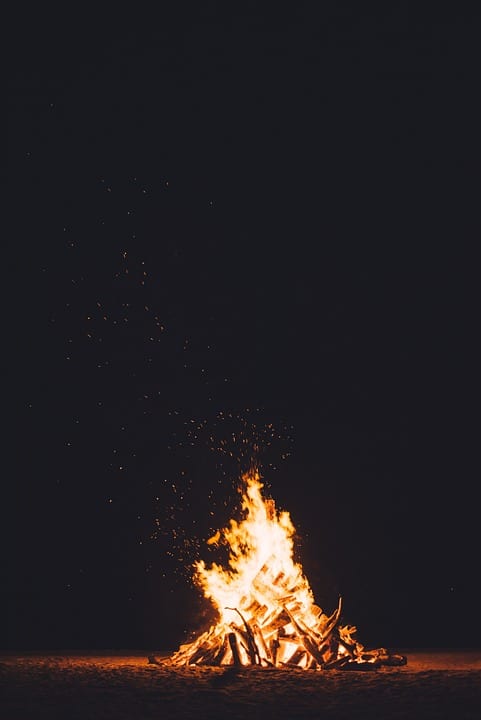 Have you ever enjoyed a bonfire outdoors? If not, then you would love to be a part of this trip. The perfect rough and sandy location makes it more special for you to experience the bonfire. Deserts turn cold as night falls, and nothing would be a better companion than the bonfire in the outdoor location. The bonfire arrangements are done nearby the camps. People usually sing, dance, drink, eat, and enjoy every moment of it. After enjoying the bonfire, you can even go to your tent to sleep.
Picture with Falcon
Falcon is a giant bird famous for its commendable vision and method of attack on its target while falling rapidly from the sky. On this trip, you can click a picture with Falcon. In ancient times, kings used to carry them on their shoulders. They used to use falcons as a postman to deliver their messages from one king to another. You can also have that royal experience by clicking a photograph with the falcon while carrying it on your arm. Though it is a small activity, it is quite important and thrilling.  
Buffet Dinner & Morning Break Fast
As we have already discussed above that the arrangement for food is already done by the service providers, you don't need to worry about your dinner and morning breakfast. You are served world-famous BBQ food with your favorite wine or beverages at extra charge.
In the morning, you are served a light breakfast, once you are awake. You can do breakfast in a comfortable time frame. And after having breakfast, you are dropped off at your hotel safely.  
Camping Facility
The camping facility in Dubai is unmatched as you get everything for your luxurious stay in the outdoor camps. They provide you with tents, mattresses to sleep on, blankets to cover, yummy food, drinking water, and other required amenities for your comfortable stay.  
Conclusion
So, now if you have an idea about the overnight desert safari, make your plan to visit Dubai rough yet beautiful deserts of Dubai. You can plan for a perfect fun trip in the coming weeks. 
Get the best quotation for the Dubai desert safari tour online. You can connect with industry professionals to discuss your requirements, budget, and available dates for this trip. Book Your Tickets Today!