Holidaying in Ras-al-Khaimah Done Right!
Ras-al-Khaimah is a city in Dubai's northern region. Enveloped in the beautiful mountains of Hajar, this region is known for its beauty. It is historically important because excavations done here revealed that the region of Ras-al-Khaimah was inhabited since the 3rd millennium BC. According to historians, this city was one of the places where the people of UAE began residing.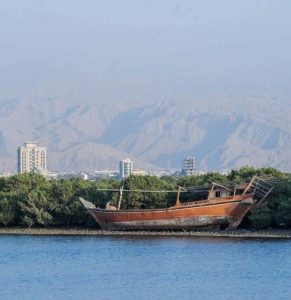 The city of Ras-al-Khaimah is modern and dotted with various tourist attractions. Visitors from across the globe throng to this city for spending vacations. When you're in Ras-al-Khaimah, there are several ways to relish things around you. The city houses multiple tourist attractions that lure visitors.
Whether you purchase Dubai tour packages from USA, India, Sri Lanka, England or any other country, a trip to Dubai and Ras-al-Khaimah is always fun. We've compiled a small list of some must-visit places in the city of Ras-al-Khaimah and activities that can be relished during the tour.
Historical Sites in Ras-al-Khaimah
There are several destinations across the city of Ras-al-Khaimah. Here's a quick look at them:
1. Beaches of Ras-al-Khaimah
Just like Dubai, the city of Ras-al-Khaimah also has some beaches where people can bask in the sun. Bedecked with warm golden sands, all beaches of Ras-al-Khaimah are packed with multiple facilities that assure the utmost comfort for all. If you're a non-guest, just loosen up your wallet and acquire a day's pass for enjoying at a beach. And, it's the UAE, so food shack isn't the word. They got multi-cuisine restaurants for all. Hence, visitors can treat their taste buds for a day!
2. Ras-al-Khaimah Fort & National Museum
A museum within fort premises or a fort that's used as a museum- both are enthralling! The world-famous museum of Ras-al-Khaimah is located in the ancient fort. The fort used to be the residence of the ruling clan in the 1960s. Later on, the fort was transformed into a museum comprising different items that were once used by the royals. Besides, the marvelous portrayal of the nomadic life in Ras-al-Khaimah catches the sight.
3. The Hajar Summit
The range of Hajar is a major tourist attraction in the region. It is the highest peak in Ras-al-Khaimah that enhances the charm. Many Ras-al-Khaimah tour packages from Dubai include a visit to the Hajar Mountains. At this place, the activities of trekking and cliff climbing can be enjoyed. What's more, shutterbugs will never be able to satiate their photography pangs!
4. Wadi Shawka
For enjoying a hike on the beautiful trails of nature, Wadi Shawka is the place you should visit. Mother Nature has spilled its beauty in profusion throughout this small valley. Rocky cliffs, springs, and green surroundings define the charm of this place. A hike to this place is once in a lifetime experience. During your vacation to Ras-al-Khaimah, try visiting the beautiful Wadi Shawka for a visual retreat.
5. Jazirat-al-Hamra
Witness the rustic charm of the old fishing village by visiting Jazirat-al-Hamra. Before the discovery of oil in the UAE, the prime livelihood for most of the domiciles was fishing. This beautiful coastal village narrates the lifestyle of the 'coastal nomads' of Ras-al-Khaimah. In the late 60's, this village was abandoned by the domiciles due to dried weather conditions. Owing to these conditions, the area was preserved naturally.
6. Dhayah Fort
Dhayah Fort is a sixteenth-century marvel in the city. It stands in a semi-ruined position today that signifies its historical relevance. The broken walls of this fort narrate the tales of the war fought between British and local tribes of Ras-al-Khaimah. It served as a watch-tower for the army, a royal residence for the ruling clan, and a prison for criminals as well. Today, it is among the top historical sites in Ras-al-Khaimah.
Activities in Ras-al-Khaimah
Ras-al-Khaimah is known for its different activities. Not just for adventure lovers, but also for different age groups, there's something for all. Let's see what all people can relish here:
Shopping
Al Hamra Mall is a major tourist attraction-cum-shopping mall in the city. Unfurled across 45,000 sq. meters, this mall houses multiple brands under the same roof. With 12 multi-cuisine restaurants and up to 120 outlets of brands, this enticing place is amazing for spending a great time with family and friends. However, you need a minimum of two hours for enjoying in this mall.
Desert Safari
All Dubai tour packages luxury includes a great desert safari. During your Ras-al-Khaimah tour, desert safari is an activity that you cannot miss! Whether that's a camel ride, falconry, SUV safari or a hot air balloon ride, people enjoy all activities. In addition to this, the fun increases when a sensual belly dancer retreats your eyes before you retire for the day.
Trekking/Hiking
The range of Hajar Mountains is the optimal place for trekking and hiking. Its jagged terrains and cliffs attract tourists on a huge scale. People who buy Dubai tour packages for group can easily enjoy the venture of trekking or hiking by registering for the same. Ensure contacting the organizer for the activity in the area with the tour operator.
Saqr Park
While holidaying with family in Ras-al-Khaimah, Saqr Park is a major attraction. It is an amusement park equipped with indoor and outdoor games. Visitors, especially kids and adolescents, can enjoy playing various video games and outdoor games alike. There's a separate section for outdoor games where people can showcase their skills in games like badminton, lawn tennis etc.
The Bottom Line
Undoubtedly, Ras-al-Khaimah is a major holiday escape in the UAE. People not only from Dubai, Sharjah, Abu Dhabi etc., swarm here, but foreigners also visit the place on a huge scale. Right from the historical side to modern-face, the city of Ras-al-Khaimah has something for all. A holiday made to this intriguing city, either with family or friends, is truly unforgettable because you just scrolled past some amazing reasons for it! For a perfect vacation in Ras-al-Khaimah, purchase a suitable Ras-al-Khaimah tour package from Dubai from a reliable tour operator near you!