Sharjah City Tour From Dubai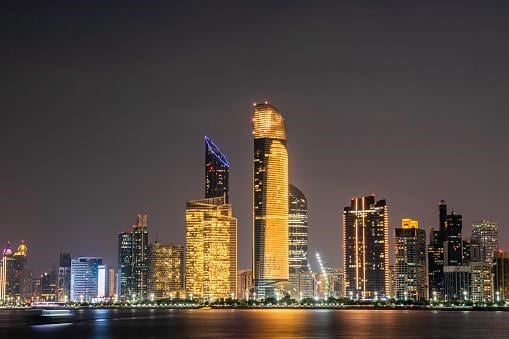 Are you planning to take a world tour with your family and take a break from your hectic work schedules? If yes, plan your travel to Dubai and extend your vacation to Sharjah City Tour from Dubai to explore the famous attractions of the city.
Sharjah City tour from Dubai is the greatest way to experience Sharjah, which is only 30 kilometers northeast of Dubai and allows Dubai visitors to see what the UAE's third-largest metropolitan treasure has to offer. While it is possible to drive to Sharjah in 20 minutes, most visitors prefer to book a Private Sharjah City Tour from Dubai with a Guide. It is the most practical and cost-effective approach to visit and explore the country's cultural epicenter.
Dubai visitors on a Full Day Sharjah City Sightseeing Tour from Dubai may shop for luxury clothes and jewelry at Sharjah's Blue Souk. The fish market is a fantastic choice for enjoying the city's gourmet seafood bounty. Guests can also visit the Museum of Islamic Civilization, Classic Car Museum, King Faisal Mosque, and Quran Roundabout, which will stay with them for the rest of their lives.
Sharjah is known as the cultural capital of the UAE due to its abundance of well-preserved historic landmarks. Sharjah, which is only 30 minutes from Dubai's glittering landmarks, puts a new light on the country's unique beauty and customs. You'll be pleased to learn that the city was designated as the Arab Capital of Culture by UNESCO in 1998. So don't miss out on our comprehensive Sharjah tour, which will give you a view of the region's most recognized cultural assets.
Prepare to visit some of Sharjah's traditional souks, incredible cultural sites, and fascinating museums as you leave Dubai. Pass by the lovely Sharjah Corniche and pay a visit to the huge King Faisal Mosque, the largest of its kind in the UAE.
A visit to the Sharjah Museum of Islamic Civilization, with its seven distinct galleries, provides an accurate glimpse into practically everything relevant to Islamic art, culture, religious faith, and more. A visit to Souk Al Markazi will allow you to learn more about Sharjah's largest shopping destination. Also known as the Blue Souk, you can find some extremely unique jewelry, handicraft products, rugs, and so on.
Continue to the ever-effervescent Qanat Al Qasba, which features a one-kilometer canal and attractions such as a massive Ferris Wheel (Eye of the Emirates). Check out the bustling Fish Market and drive through Sharjah Cultural Square, which features a stunning sculpture of the Holy Quran, before your wonderful cultural break concludes with a return transfer to your Dubai destination.
Top Attractions To Visit
Sharjah City Tour
Given below are the top attractions to visit in Sharjah:
1. The Al Noor Mosque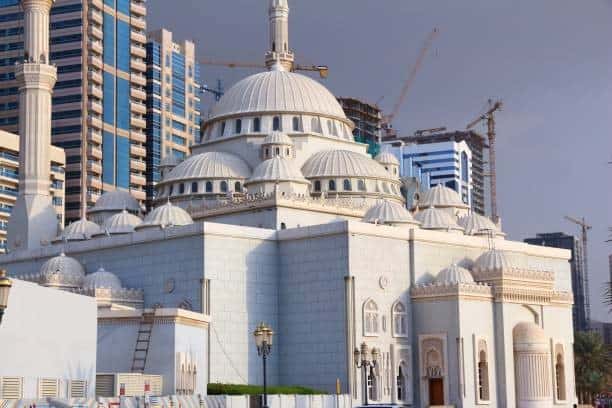 The Al Noor Mosque, which stood in exquisite magnificence with its perfect symmetry against the backdrop of a pure blue sky meeting the waters of the Khalid Lagoon. The mosque's 34 exquisite domes provide a visually appealing experience.
Skyscrapers climbed to the heavens on the other side of the Al Noor Mosque in a magnificent tapestry of contradiction, yet the mosque seemed to ridicule these want-to-be constructions with an air of nonchalance. The Al Noor Mosque, which may remind you of the Blue Mosque in Istanbul, Turkey, is designed in the Turkish Ottoman architectural style. It is one of Sharjah's 600 mosques.
The good news is that this mosque is accessible to the general population. In reality, it is one of Sharjah's three open-to-public mosques. Inside the mosques, there was a sense of calm, and the holiness of the area was evident. In the central hall with stucco walls, glistening chandeliers projected an ethereal light. We appeared to have entered a new universe, although an exquisite one.
The mosque has a capacity of 2200 people and a women's section with a capacity of 400. As she walked us around, a delightful lady offered a plethora of information about Islam, its traditions, and the culture of the UAE with us. When the nice lady offered us dates and Arabic coffee, our experience was elevated to a whole new level.
2. Sharjah  Heritage Museum
The Sharjah Heritage Museum is a tour de force that takes you on a fascinating journey through Sharjah's early beginnings, history, and culture. As one goes through the museum's six galleries, one gets a picture of the people's way of life. Through intriguing exhibitions that are structured in a methodical manner, rich information about lifestyles, occupations, and traditions is given.
3. Sharjah Museum Of Islamic Civilisation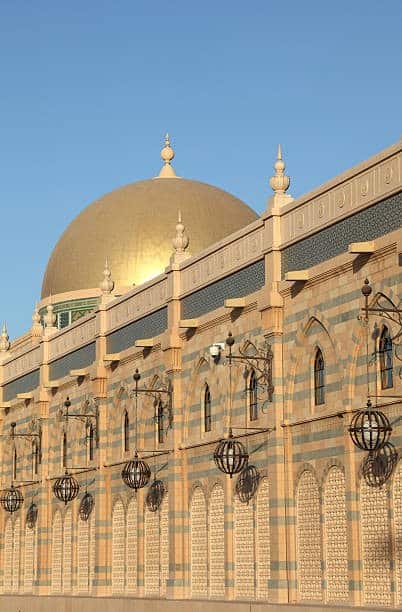 The Sharjah Museum of Islamic Civilization is housed in a former traditional Souq. Because of its golden dome, the structure stands out in a gleaming design. The museum is a genuine treasure trove of information on Islamic civilization, complete with items from all across the world. Coins, calligraphy, manuscripts, jewelry, and other valuable exhibits demonstrate the origins of Islamic culture.
4. Al Noor Island
The Al Noor Island is reached by a gate near the Al Noor Mosque. A trip across the Khalid lagoon on a wide and well-kept pedestrian boardwalk leads to Al Noor Island. The walkway provides stunning views of the Al Noor mosque and the Sharjah City skyline.
Al Noor island is a tranquil setting great for some stress-free relaxation with contemplative music playing in the background. Aside from the butterfly park, there is also a play area for children. The butterfly park is located in an unusually formed building in the shape of a butterfly. Exotic species of many coloured butterflies have found refuge in the Butterfly Park.
5. Central Souq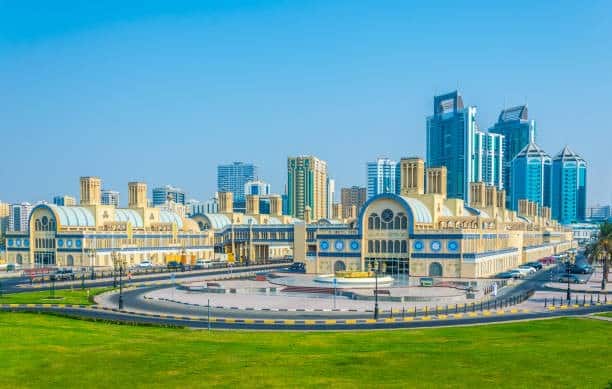 The Central Souq, commonly known as the Blue Souq because of its color, was constructed in 1978 and has become an iconic feature of Sharjah City. It is a Dh5 note as well as an architectural masterpiece. Its Arabian-style architecture has a grandness that is both visually appealing and has a calming influence on the environment. The Souq is divided into two interconnected wings and contains 600 stores.
The main floor sells current clothing, watches, and jewelry, whilst the higher floors sell more traditional and exotic products such as carpets, pashmina rugs, traditional coffee pots, traditional gold and silver ornaments, and home decor artifacts.
These are some of the best attractions you must visit while planning your holiday packages to the Sharjah City Tour with your family. However, if you are interested in covering more places while being on vacation, you can set international tour packages under your budget to travel with great comfort. Revamp your bucket list and give your dream trips wings. It is no longer difficult to be liberated in the wonderful international trip places with these tour packages.