Notable Parks in Abu Dhabi for a Perfect City Holiday
Abu Dhabi, one of the major tourist destinations, is the source of complete tourist serenity for its general greenness. In fact, the eye-satisfying greenery of Abu Dhabi lies in its beautiful parks. The city possesses some of the beautiful parks and green spaces. The splendid parks serve some preferred family activities. Weekend picnics are a favourite stress buster for the tourists visiting Abu Dhabi, and also the people of Emirates. Be it small walks, games or picnics or any other fun activities, these lovely parks provide some relief from the hustle-bustle of the city. In other words, it is a great option for the visitors. You can just go there and relax. The greenery and fun of the parks are surely going to lure your heart away.
We have listed some of the renowned parks of Abu Dhabi here in this article for you to know them as you plan your next visit to Abu Dhabi:
Umm Al Emarat Park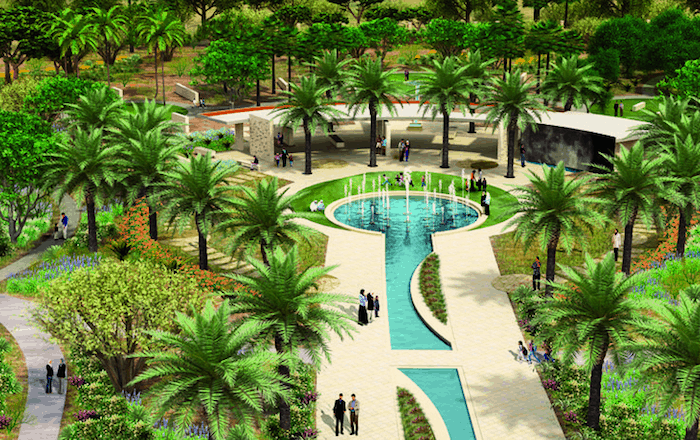 The Umm Al Emarat Park opened its doors to the public in the year 1982. It is one of the oldest and largest municipal parks in Abu Dhabi. Umm Al Emarat Park is located in the middle of 15th Streets between Airport Road and Karamah Street. Because of its location, it was previously named as Musharif Central Park. During the early days, the entrance was limited only to ladies and children. 
In January 2013, the then Musharif Central Park was closed for some renovation works. The work continued for a span of good 24 months. The beautiful park was reopened with a pomp and show after the entire renovation. It has now added entertaining facilities on and from March 2015. The complete design of the new park marks the glory of the traditions of the late Sheikh Zayed bin Sultan Al Nahyan. His dream was to safeguard the cultural and natural history of United Arab Emirates. The main purpose of this park is to do something for the betterment of the community.
A year later i.e., during 2016 the park was renamed as Umm Al Emarat Park. This name was given to show respect to Her Highness Sheikha Fatima bint Mubarak. This park has a beautiful botanic garden, a wisdom garden, a shade house, a large open lawn and an amphitheater. This park is a perfect example of entertainment and enrichment of knowledge. You can walk, play games, relax, exercise, eat and drink. The outstanding feature lies in its cleanliness. No wonder the park was awarded the Green Flag Award for its sustainability, heritage, cleanliness, safety, community, involvement and conservation.
The park is opened 7 days a week from 8 AM to 12 AM. The entry fees to this entertaining park are only AED 5, though for children up to 3 years of age, the entrance fee is completely free.
Khalifa Park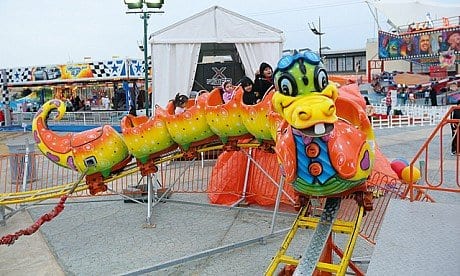 The Khalifa Park was established in 2007. It is situated on Al Salam St in Abu Dhabi. This location is near Sheikh Zayed Grand Mosque. This is one of the largest parks in Abu Dhabi. This park spreads across an area of 5, 00, 000 sq. metres. This splendid park offers a Cultural Library and a Maritime Museum. The Cultural library is the perfect place for the people who are interested to know about the bygone era of Abu Dhabi as well as the progress of United Arab Emirates from desert to metropolitan cities. It has books which best depicts the Arabic living, history, and evolution. In the Maritime Museum, the people can enjoy some time by examining some of the ocean's wildlife.
This magnificent park is a perfect destination for people from all age groups. It offers garden spaces and fun-filled attractions in a secure and entertaining environment.  The garden space is filled with almost all new flowers of the Middle East. Moreover, the shrubs are perfectly cut and designed to decorate the garden. There is a beautiful fountain at the entrance. There is a train ride for all age groups. This train runs along the perimeter of the park. Kids can enjoy to their heart's content at Murjan Splash Park. There are seven water-based attractions. They can enjoy various water games or can sail on a Lazy River. There are some designated areas for bar-be-que in the evening.
The main motive of this great and beautiful park is that the visitors will have the best time of their lives. The entrance fees to this grand park are only AED 1, while the entrance fees to the museum and aquarium are chargeable at AED 2. Children up to 10 years of age are allowed to enter the park for free. This park is opened for seven days a week. From Sunday to Wednesday the timings are from 10 AM to 10 PM, while from Thursday to Saturday the timings are from 10 AM to 11 PM.
Murjan Splash Park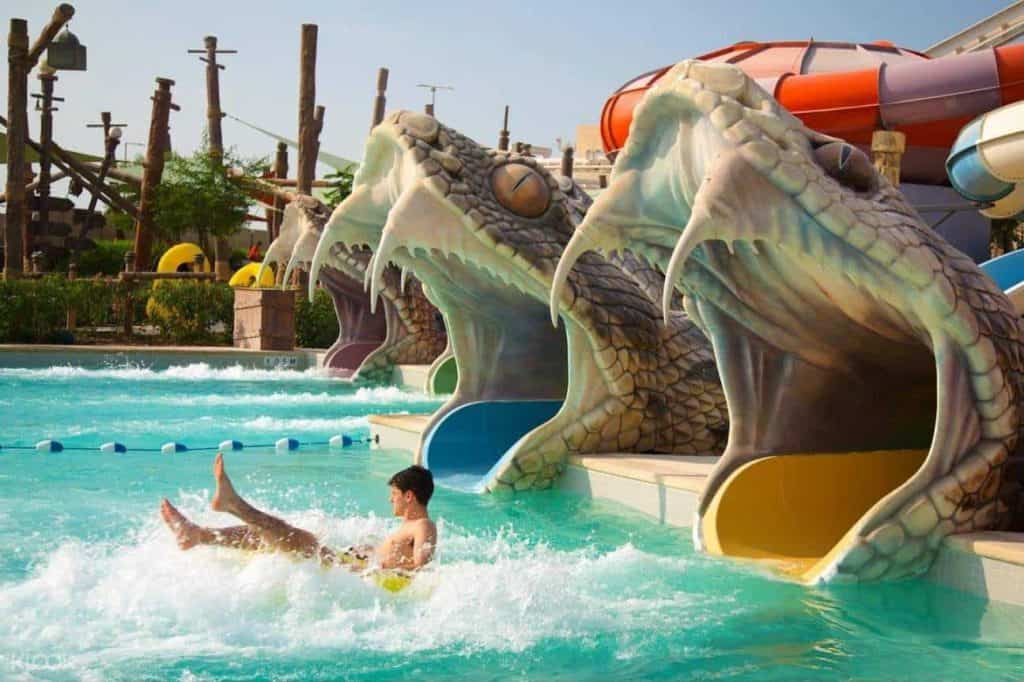 The beautiful Murjan Splash Park is a part of the renowned Khalifa Park. It is near the falcon gateway. It is a perfect relief for the family during the hot weather months. The main characteristic of this waterpark is 'Water Play Structure'. It is basically a depthless pool with four small waterslides, a water umbrella, a giant tipping bucket, a small tipping bucket, water showers, a crawl tunnel, a water wheel and water guns.
Kids can enjoy 257 metres long, and 0.6-metre-deep 'lazy river ride'. Here they can cruise along this river ride or can simply float and relax. Another main attraction of this park is 'Surf Wrangler'. It is for those kids who want to test their balancing ability by riding an automatic surfboard. The adventurous ones can enjoy the 'Water Balloon Wars'
There are small battery-operated boats with steering wheels. It is called Bumper Boat Lagoon. It is fun for the kids to ride and strike with each other. Another one is Lili Pad Hop. It has four trampolines where kids can jump, toss and twist.
The park is opened seven days a week. The timings are from 10 AM to 6 PM. However, during the Ramadan months, it is in operation from 4 PM to 10 PM on Thursday, Friday, and Saturday. The entrance fees are AED 50. However, children up to 1 metre are allowed to enter for free. Children under 13 years of age are allowed to enter with an adult. It is preferred to carry cash for entrance fees. They do not accept card payments.
There are some rules of the park to abide by. For instance, the visitors should wear proper swimming costumes. No outside foods or beverages are allowed inside the park. Lockers are available for the convenience on the rentable basis. Smoking and abusive languages are strictly prohibited. The instructors are present inside the park for each ride.
Delma Park
The Delma Park is located at the corner of Delma Street and Salam Street. It is about 7 Km from Abu Dhabi Corniche. This park is supported and promoted by both Abu Dhabi locals and city's guests. This lovely park offers a wide range of opportunities to provide relief to the people from the everyday busy life. This is the perfect place to exercise, relax or spend some time with family and friends.
The Delma Park has a well-equipped fitness area for the fitness enthusiasts. The park houses football pitch, rubberized running track, and tennis courts. This triangular shaped beautiful park has a dedicated kid's playground which is specially designed for them.
The entrance to this park is absolutely free of charge. The park remains in operation till 10 in the night. It offers various restrooms and parking areas. There is no need to carry outside food and beverage. Few shops are present to provide snacks and drinks.
Emirates Park Zoo
Emirates Park Zoo is a wildlife park. It is located in Al Bahia about 35 Km from Abu Dhabi city. It is situated on Abu Dhabi – Dubai Highway. It opened its doors to the public in 2008. It is the first private zoo in the United Arab Emirates. This park provides shelter to over 1700 animals (both pet animals and wild animals). It is divided into a number of segments. For instance, there are reptile house, hippo house, snake alley, Birds Park, Giraffe Park, equine enclosure, camel farm, Flamingo Park, primate parade, mammal cave, wildlife walk, petting zoo and lots more.
This beautiful wildlife park hosts many shows and interactive sessions for public entertainment. For example, elephant and giraffe feeding sessions, bird of prey show sea lion shows and many more. It is a perfect stop for families who want to enlighten themselves on educational and fun-filled activities.
The park is in operation seven days a week. The timings are-
  Sunday to Wednesday from 9 AM to 8 PM.

  Thursday to Saturday and all Public Holidays from 9 AM to 9 PM.
The entrance fees to this wildlife park are Dhs 30 for every adult visiting here. Children up to 6 years of age are chargeable at Dhs 20. Children up to 2 years are allowed to enter for free.
This wonder world has recently extended its wings and covers an area of 6500 sq. metres. This new space is utilised for foreign and tropical animals.
This park has AC lodging facilities with Emirates Park Resort. From the balconies, you can have a clear view of the zoo.
Arabian Wildlife Park
This splendid park is on Sir Bani Yas Island. It spreads over 1400 hectares of land. This fascinating wildlife park provides shelter over 10, 000 free roaming animals. It covers half of the island. Oryx, Ostriches, Giraffes, Hyena and many other animals wander here in the natural surroundings. There is a platform which is built for the public. The purpose of this platform was to get a close and exclusive view of the island's giraffes. The visitors will have a lifetime safari experience in this wildlife park. There are many programmes being held here. One of the significant ones is an animal breeding programme for safeguarding the endangered species.
This park was the result of the vision of the late UAE President, Sheikh Zayed bin Sultan Al Nahyan. His Highness felt the need to conserve the animals and protect them from extinction.
Eastern Mangrove Lagoon National Park
Mangrove is one of the interesting and useful species of humanity. The mangroves are mostly found in the coastal saline waters. The Eastern Mangrove Lagoon Park was inaugurated on 1st October 2014. It is situated on the Eastern Ring Road, Abu Dhabi. This national park provides shelter to various species of fishes and birds. You can find over 60 different breeds of birds here. Some of the various types of birds are Sandpipers, Night Heron, Grey Heron, Western Reef, Greater Flamingos, Clamorous Reed Warbler, and Crab Plovers. If you are lucky enough, you can even find Spotted Eagles.
Various water activities like kayaking, paddle boarding, etc. are done here. You can explore the island and can a brief knowledge about the history of this national park through kayak tours. You can even do some fishing by kayaking.
This beautiful park is best viewed if you travel on the water. The entrance fees are free for all. You just need to pay for the water-based activities.
Ending Words
The feeling of green grasses under the foot is very enjoyable. No other feelings in the world can match this expectation. Abu Dhabi is known for its hot and humid climate. The lush green trees in the parks provide some relief from the scorching heat of the sun. There are benches around the parks where you can just sit and relax or you can just lay down on the green grass and spend some peaceful hours away from the city life. These splendid parks offer some of your favourite activities. In fact, do not limit yourself to the city's renowned and famous attractions, next time when you visit here. Spare some time to visit these beautiful parks to get some fresh air. Trust us, you won't be disappointed.